THE CLUMBER SPANIEL
(Breeder Directory)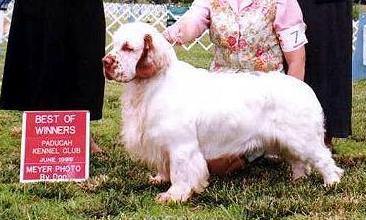 WOODSMAN N'CAMEO SNOWMAN CW "BLAKE"
Owned By: Stacy Killian of Beulah Land Labradors and Clumber Spaniels, Bred By: Darrel and Carol Reeves of Woodsman Clumbers
Out of: CH. First Tavirosh,JH,WD,CGC,TDI(UK IMPORT) and CH. Woodsman Celebration O'Cameo,JH,SH,CGC




OREGON
Woodsman
Darrel and Carol Reeves
e-mail
Health Clearances: Hips and Eyes
All Purpose


---

OHIO
Drumhill Clumbers
Judy Hiller
8266 Eastmoor Road, Mentor, OH 44060-7512
e-mail
Health Clearances:
All Purpose


Von Wunder Haus Clumbers
Shirly-Ann & Ginger Miller
1135 Highland Ave, Dayton, OH 45410
Phone: 937-254-8225 e-mail
Health Clearances:


---

VIRGINIA
Villa De Clumbers
Kathy Tumey & Alan Pendleton
Virginia/Maryland/DC
e-mail
Health Clearances: All Health Clearances, Temperament Testing for Conformation, Hunting, Tracking, Therapy and Obedience





---
CLUMBER SPANIEL
(Litter Ads)


BUYER BEWARE!
Just because we list Litters and Breeders it does not mean that Sporting Breed(s) Central is endorsing a breeder or litter.
We take the Breeders at his or her word at what they advertise to be true.
It is the buyers responsibility to learn about the Breed, the Breeder and the Litters.
AKC Registration is not a guarantee of quality or it is a reason to breed.
There are many things to consider when choosing a breeder, so ask LOTS of questions!
---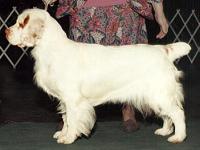 Photo of: CH. DRUMHILL ONLY A DREAM "CHARLIE"
Bred By: Judy Hiller of Drumhill Clumbers
Out of: CH. Lakeview's Winchester and Drumhill Fluorescence
CLUMBER SPANIEL
(Adults Available)
---
If you would like to add your Web Site URL, Litter Ad or "FREE" Kennel Listing, go to
ADVERTISING ON SPORTING BREEDS CENTRAL
CONTACT: Stacy at
SPORTING BREEDS CENTRAL
MAIN PAGE