THE IRISH SETTER
(Breeder Directory)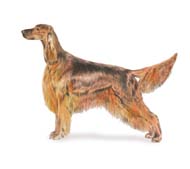 CONNECTICUT
Kenmare Irish Setters
Sarah A. Muska
Broad Brook, CT
Phone: 860-623-9168 e-mail
Health Clearances: OFA, DNA


---

COLORADO
Triskelion Irish Setters
Debbie Contardi
Colorado
Phone: 303-776-0706 e-mail
Health Clearances: OFA, DNA for PRA, Thyroid
All-Purpose


---

MASSACHUSETTS
McDerry Kennels
Caren McWeeny
Massachusetts
Phone: 781-585-1632 e-mail
Health Clearances: Hips, Eyes, Thyroid, PRA


---

MICHIGAN
Rebelstar Kennels
Dan and Donna Carlson
Michigan
Phone: 810-240-2403 e-mail
Health Clearances: Hips, Elbows, Eyes CERF


---

NEW YORK
Bellin Farms Irish Setters
Martin R. & Barbara Sue Bellin
178 Lower Sheep Pasture, Setauket, NY 11733-1826
Phone: 516-751-8288 e-mail
Health Clearances: Hips OFA'd, DNA certified clear of P.R.A.


---

NORTH CAROLINA
Captiva Kennels
Jill Taylor
North Carolina
e-mail
Health Clearances: Hips, Eyes, Thyroid, PRA


---

OHIO
Aramis Farms
Michael Lamp
Ohio
Phone: 740-749-0164 e-mail
Health Clearances: OFA, DNA, CERF


---

PENNSYLVANIA
Kenobi Irish Setters
Joe & Gerry Lee
Pennsylvania
Phone: 724-443-5524 e-mail
Health Clearances: OFA, DNA/PRA
Conformation


---

WEST VIRGINIA
Erinfyr Setters
Mary C. Lamphier
17 Gun Barrel Rd, White Post, Va 22663
Phone: 540-837-1999 e-mail
Health Clearances: Breeding stock OFA and genetically clear of PRA (reg'd with Cerf)

Meadowlands Irish Setter Kennel
Robyn Seybert
PO BOx 179, Gladys Hollow Road, Reynoldsville,WV 26422
Phone: 304-624-7465 e-mail
Health Clearances: Prelim X-rays, Thyroid testing





OUTSIDE UNITIED STATES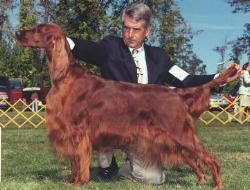 CH. Thenderin Olympic Flame "Flame", Bitch, Owned by Marty & Barbara Bellin




CANADA

VANCOUVER ISLAND
Darkenwald Setters
Leslie Anne Davey
Ladysmith, B.C. Canada
Phone: 250-245-7985 e-mail
Health Clearances: OFA, DNA for PRA, Eyes Yearly



---
IRISH SETTER
(Litter Ads)
BUYER BEWARE!
Just because we list Litters and Breeders it does not mean that Sporting Breeds Central is endorsing a breeder or litter.
We take the Breeders at his or her word at what they advertise to be true.
It is the buyers responsibility to learn about the Breed, the Breeder and the Litters.
AKC Registration is not a guarantee of quality or it is a reason to breed.
There are many things to consider when choosing a breeder, so ask LOTS of questions!
---
IRISH SETTER
(Adults Available)
---
If you would like to add your Web Site URL, Litter Ad or "FREE" Kennel Listing, go to
ADVERTISING ON SPORTING BREEDS CENTRAL
CONTACT: Stacy at
SPORTING BREEDS CENTRAL
MAIN PAGE