THE TOP 10 AKC SPORTING BREEDS
but.....
is this Breed really for you???
Just because certain Breeds are within The Top 10 Most Popular Breeds, it does not mean any one
of those particular Breeds are for YOU. Please research the Breed of dog you are interested in. Go to the
library and read everything you can about the Breed of dog, talk to reputable breeder(s), visit All-Breed
dog shows, talk to people who own that breed of dog. If you don't know of anyone within your area that
owns the breed of dog you are interested, contact breeders who can maybe put you in contact with someone
who can. Most reputable breeders who are dedicated to their breed are always more than willing to offer
you assistance and to share their wealth of knowledge of their breed. They want to make sure that you are
well informed about the breed, before you decide to purchase. There is no such thing as too much information!

If you don't believe it, visit your local animal shelter to see what lack of information can do to people and
most of all to the innocent puppies and adults alike. So PLEASE do your research to find out if
This Breed Of Dog Is Really For YOU!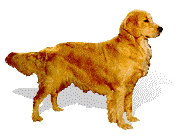 TOP 10 AKC SPORTING BREEDS

1. Labrador Retriever
2. Golden Retriever
3. Cocker Spaniel
4. German Shorthaired Pointer
5. English Springer Spaniel
6. Brittany
7. Weimaraner
8. Chesapeake Bay Retriever
9. Vizsla
10. Irish Setter
CONTACT: Stacy at
SPORTING BREEDS CENTRAL
MAIN PAGE